10 Reasons Why Kids Should Learn about Sex from this Cartoon
When I first discovered puberty, it was like the pivotal moment of unravelling the Dark Web™. It suddenly dawned on me that life is a complicated mess. It was an odd experience and I felt helpless. And plus, you know, living in Malaysia… we don't get enough sex-ed. My friends and I at that sprouting age, were not only haunted by pimples but also with sexual thoughts. We were nothing but awkward beings, wrapped in a big ball of confusion. Ah, how we wished we had Big Mouth back then.
WTF is Big Mouth?
(source: AllFlicks)
Big Mouth, a Netflix animated cartoon series, encapsulates the exciting journey of pubescents teenagers and adolescents cruising through puberty. It's a trip back to times when masturbation, quickies and tongue kissing filled our lives. Despite the vulgarity of issues dealt in Big Mouth, it manages to handle the topic of puberty in a sensitive manner that doesn't speak down to its viewers. Instead, Big Mouth tells us that it's okay to be 13. Damn, 13-year-old me could have really used some of that. But for all the kids out there (and pre-cautious but liberal parents), don't miss your chance. Here's why:
Alert: Spoilers ahead.
1. It introduces us to our Id (our sexual self).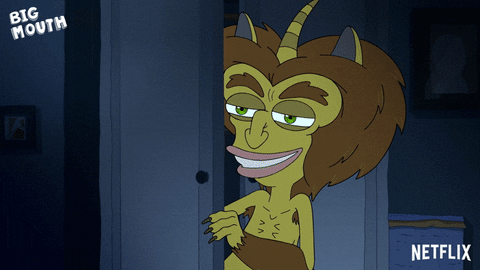 Geeky teen Andrew (one of the main characters in Big Mouth) is a be-right-back-gotta-beat-my-meat kinda guy. Relatable? I bet. Big Mouth shows this using a monster, known as the Hormone Monster. The Hormone Monster represents Andrew's sexual instincts, fuelled by his raging hormones. It constantly coaxes (actually, harasses) Andrew into tending to his hormonal urges as a ripe teenage boy. I'm pretty sure we could ditto to this invasive situation in our lives, where we're almost entirely controlled by only hormones. The Hormone Monster will make you text your friends saying "brb busy ttyl". C'mon now, you've done that before, haven't you?
2. It promotes sex-positivity.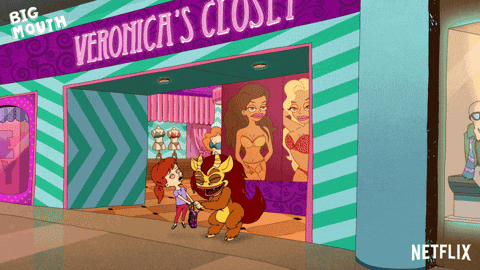 Unlike other light-hearted American series in the past, girls get their fair share of sexuality discovery. In the episode 'Girls are Horny Too', the girls are spotted walking around with their type of porn everywhere (erotic romance novels!). This scene was particularly nostalgic, as I recalled my high school years where girls would read 50 Shades in class. The boys in this particular episode of Big Mouth find out that the girls get turned on from the idea of having forbidden sex. Big Mouth did really well in balancing sexuality between boys and girls, in accepting that girls having sexual feelings is normal. In fact, it embraces the horniness.
3. It tells us whether we're gay or not.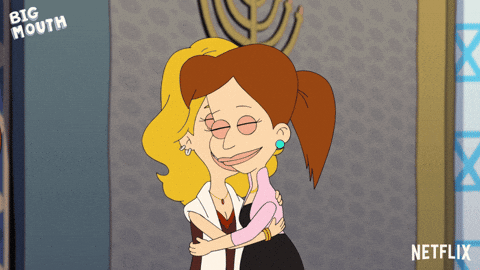 Am I gay? At times we question ourselves. Yes, sexuality can be really confusing at such a critical period of time in our lives. One day we're straight, the next day we become lesbian, and the next bisexual. It's okay, poor Andrew felt the same too. But that's alright, the Hormone Monster is always there to help. To find out whether Andrew is gay or not, the Hormone Monster gave Andrew a gay test, and tries him with gay porn. Great exposure. Well, to be honest, not really. Jokes aside, Big Mouth instead emphasises the necessity to explore our sexuality during our teenage years. Give it time, soon you'll know.
4. It teaches us about our body parts.
Aside from confronting the very fact that you'll be a grown-up and a working-adult several years from now, teenage years are for us to learn about our own bodies. Jessi, for one, decides to use a mirror to check what's underneath. Turns out, her vagina can talk! The connection and communication between Jessi and her vag wasn't like the ordinary – no Ouija sh*t. It was a spiritual experience. The talking vagina gives us a rundown of a female genital, and we learn that it's not "only just a vagina".
5. It uses urban lingo.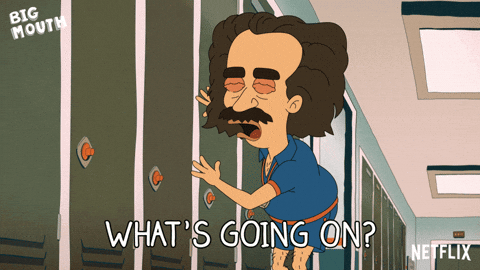 From creating their own vocabulary like "titty cocktails" to mean breastfeeding, Big Mouth is not a normie when it comes to urban lingo. They even named an episode after a Millennial slang – Head Push. The good old Head Push as defined by the only legit dictionary for Millenial-speak, Urban Dictionary is "when a man puts his hand on his girlfriend's head and slowly pushes her head toward his crotch in the hopes of getting a blowjob". Hmm, who knows, we could've used the vocabulary taught in Big Mouth to develop a more refined-sexting on our end. Tinder anyone?
6. It's respectful of consent.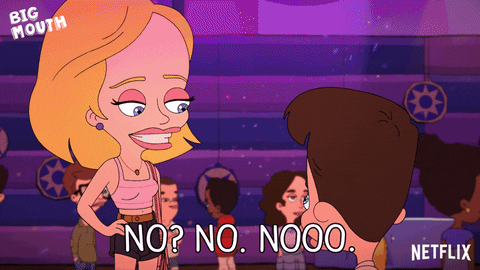 Drawing upon the Head Push episode, we learn that sex must be respectful of choice. And how did Big Mouth manage to suggest that? Well, they started by depicting a scene where Leah and Zach are making out on the bed. As things get down, Zach attempts Head Push on Leah…. repetitively. But Leah, at a dismay of Zach's actions, stomps out of the room and tells everyone else about Zach's disgusting action. Not only is this scene so essential in telling us that sex ultimately involves mutual choice, but we should speak up if we were forced to do something we do not want to. Yeh das right, say #yes to consent.
7. It makes us think twice about unprotected sex.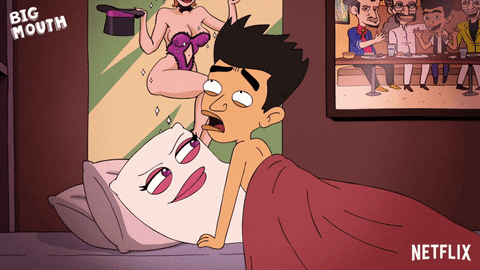 In an episode of Big Mouth, Jason loves having passionate sex with his pillow (voiced by Kristen Bell, lol the imagery).
Kristen Bell as Pillow. (source: IndieWire)
But oops, accidents happen right? This quick fix soon becomes a nightmare. Pillow gets pregnant and 20-year-old Jason is too young to be a dad. Big Mouth exposes the harrowing realities of getting pregnant – morning sickness, baby kicks and painful uterine contractions. It also discussed about abortion low-key. But Jason was quick to kill the thought of that. Here once again Big Mouth brings up an important underlying theme – that we must be responsible for our desires. In the end, after giving birth to a baby pillow, Pillow leaves Jason. RIP. You don't want that to happen to you, kid.
8. It's accepting of kinks.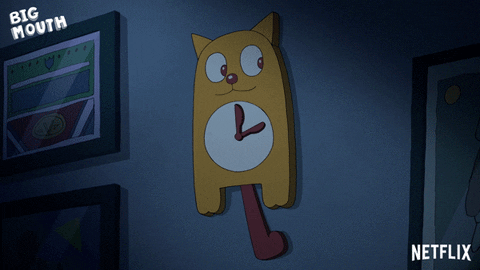 Apart from necrophilia and fantasising about someone older, Big Mouth also includes kinky escapades with inanimate objects using our imagination. In an episode, Andrew is creeped by the Hormone Monster, to cater to 'his needs' (not an unusual encounter). The Hormone Monster entices Andrew to "massage his dinger" while he watches a pussycat-shaped clock moves its googly eyes. He whispers into his ears and says, "You're a perfectly normal gross little dirt bag". Hmm, true…. We all are.
9. It debunks the disgust of periods.
Why are man so uncomfortable with female periods? Jessi got her first period in an episode of Big Mouth. The boys, Nick and Andrew throw up when they learned that she actually bleeds. Nick apologises to her about it. But Jessi releases her inner-angry feminist and screams to the boys, "Why are you apologising? It's not a disease!". F*ck yes. Why doesn't rape get the same disgust from men like how menstruation does? To make things even better, Big Mouth even included a singing tampon that sings about how "everybody bleeds!".
10. It teaches us about porn.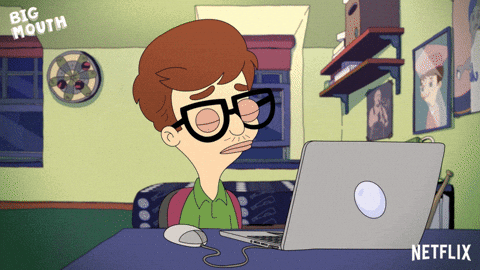 Throughout Big Mouth, we see several episodes where the boys, Nick and Andrew, try to obtain some pornography. However Big Mouth shows us that succumbing easily to lust will make us trapped. For one, Andrew becomes desperate after his girlfriend breaks up with him. This was heartbreaking – not so much for the love Andrew and his girlfriend shared, but how could a guy like Andrew in his adolescent years deal with this? Porn, of course. Andrew eventually gets sucked into Pornscape. Think RuneScape, but porn. Yup kids, not the best place to be.
So there you have it. 10 solid reasons why Big Mouth is the sex-ed cartoon every kid needs. Seen it and still don't think it's all that? Tell us in the comments section.
Big Mouth Season 1 can be found on Netflix now. Season 2 will be coming in 2018.