Top Games From Steam's Next Fest October 2022 For People Who Are Romantically Down Bad
It's that time of the year again where gamers can rejoice and enjoy Steam's Next Fest which is a week-long celebration featuring hundreds of free playable demos as well as developer livestreams.
Players can try out these games before its release and developers can gather feedback as well as build an audience ahead of the launch.
In short, everyone wins.
Now, let's be honest… JUICE is no gaming platform albeit we do indulge in it from time to time as seen through our JUICE Girls Game video series on YouTube and our numerous gaming write-ups.
While this writer may not be a gamer, she is very – and I mean abysmally – down bad.
When the dating app guides and dating app suggestions just don't seem to reel in the fish anymore, maybe it's time to take matters into our own hands. Literally.
So, as a favour to all my other comrades who are down bad, here are my top picks of games from Steam's Next Fest for those who are just lonely and in need of companionship. 
P.S: We don't judge here!
Milk Girl – Sweet memories of summer
Have you ever had a friend who you were attracted to but nothing ever came out of it?
Well, if you can't play out this 'will they, won't they' situation in real life, maybe you might want to see it in the form of a game?
This upcoming title from developer azucat sees you as the protagonist as you help out your childhood friend, Ayaka during summer vacation.
You haven't seen Ayaka in a while so the both of you need time to get comfortable with each other by completing the game's missions.
According to the game's description, "By completing sub-missions, her likability or lewdness will increase."
The game also includes features such as raising cats and earning money if the romantic element isn't for you, but let's not kid ourselves here. There's a reason why you clicked on this article, you dirty dog.
Perfect for a chill gaming session since it only requires a mouse to play, this game provides low commitment on your end which makes sense because there's a reason why some of us are single, right?
Click here to download.
Thirsty Suitors
Described as the Indian Scott Pilgrim vs. The Universe, this title has you play as Jala, a girl who seemingly has trouble finding The One. Welcome to the club, bestie.
Not your typical dating simulator, Thirsty Suitors also combines cool elements like skateboarding, competitive cooking and of course, wrestling with attractive singles.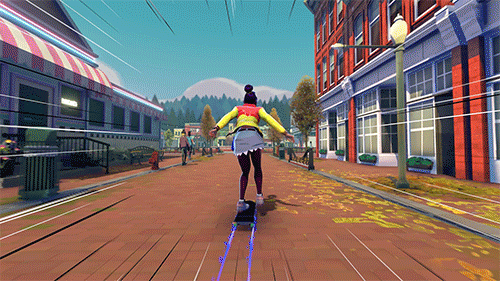 The tagline? 'Battle Your Exes, Disappoint Your Parents, Find Yourself'. Wait a minute, did I develop this game?
If the typical laid-back nature of Doki Doki Literature Club isn't for you, it's time to indulge in some over-the-top combat, skate grinds and traditional Asian parenting for that extra spice.
Click here to download.
GymBeasts
What's the best way to forget your woes? Working out of course! And what better way to workout than to indulge in some eye-candy while doing it?
As the protagonist of your very own harem anime, you get to pick between three exhaustingly hot gym guys with their very own hot adventures and wild dates.
Since you're new to this gym, you get to flirt your way through hours of funny stories and dialogue and enjoy multiple endings (happy ones, I hope) with the men of your choice.
The best part is you can choose to play in a modern gym or travel to a medieval fantasy world – similar to how you're gaming instead of putting yourself out there in real life.
So, you're practically spoiled for choice here because you can train hard, flirt hard or "slay monsters hard."
Click here to download.
There you have it, folks.
Clearly, this article is just for the giggles and there are plenty of other options for you to choose from that don't involve dating.
For that, you can click here to see Steam's wide range of upcoming games.