Fahmi Reza's Jerebu Mural Gets Covered With Grey Paint After 3 Days Of Viral Vandalism
In the past 2 years since Covid-19 took over the world, we've only barely noticed the lack of haze in the sky. I suppose everyone was too busy staying inside to openly burn their trash anymore.
Recently, local political graphic designer Fahmi Reza took to the streets and painted a mural indicating a haze warning.
Fahmi design apa hari ini? #streetart #jerebu pic.twitter.com/A55vWFUlFJ

— Fahmi Reza (@kuasasiswa) September 4, 2022
The mural in question states "CAUTION: JEREBU IS COMING BACK" painted on a black and yellow background in typical warning sign fashion, and takes up a corner in a busy intersection placed in the local CBD. It's hard to miss for sure.
Apparently, the mural sends a message targeted at Malaysian-owned organisations that are currently based in Indonesia who are allegedly part taking in open burning, which we all know is the source of our annual haze season.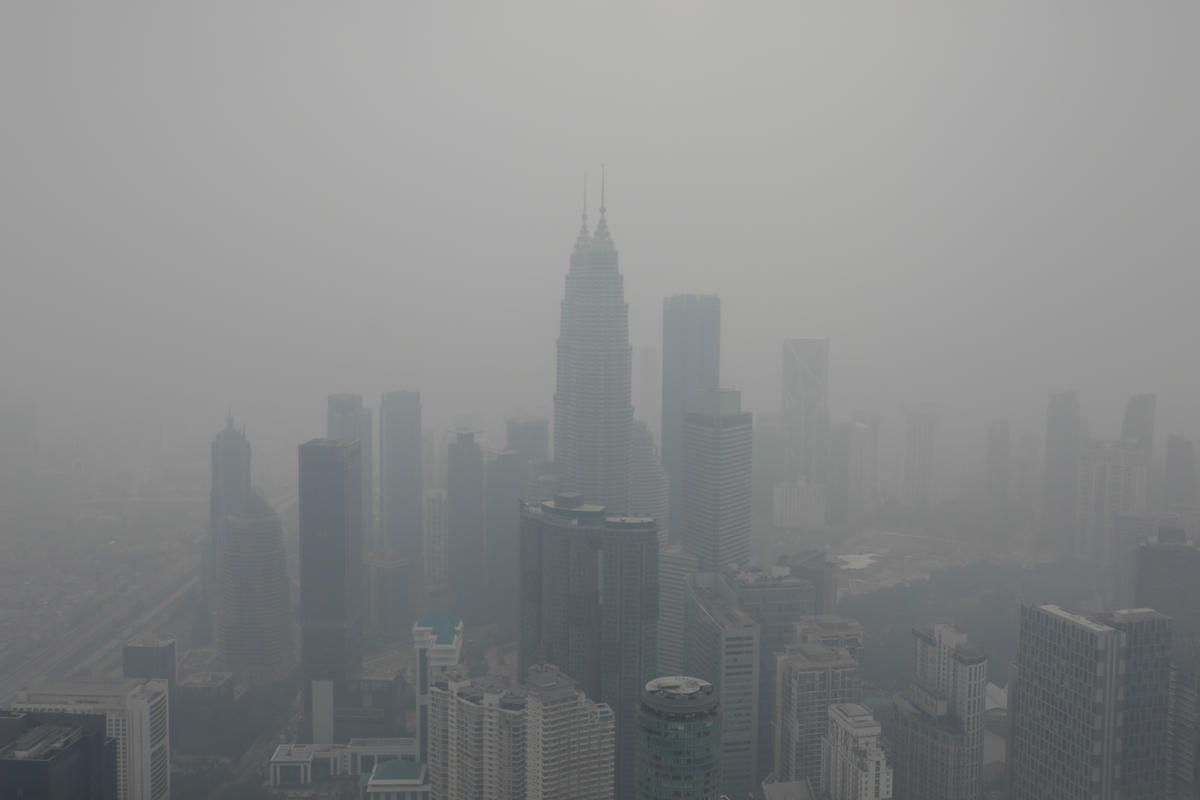 "As usual, every year, opening burning takes place at palm oil plantations in Indonesia, which includes Malaysian-owned companies," Fahmi says in a TikTok video about the mural that he posted.
Not long after it's completion, the mural had already been vandalised. In less than 24 hours, part of the mural was painted over which caused it to look confusing and random.
Belum sampai 24 jam dah ada manusia yang paint over kaki huruf "R" perkataan JEREBU dengan cat atau spray paint warna kuning. Pantas betul mereka buat kerja! Betul-betul gigih 😂 pic.twitter.com/mQrMf1wAWR

— Fahmi Reza (@kuasasiswa) September 5, 2022
Don't worry, though. It clearly didn't phase the artist.
Fixed it!

Mereka cuba padam, kita cat balik 😁 #jerebu pic.twitter.com/s0nCk8Bmut

— Fahmi Reza (@kuasasiswa) September 5, 2022
But they just kept coming back:
Mural #jerebu kena conteng lagi! 😂

Ada geng yang boleh pergi betulkan huruf "J" yang kena conteng tu? Guna spray paint warna kuning je. Kita gotong-royong jaga protest mural ni. Mereka conteng, kita cat balik 🤘🏼 pic.twitter.com/BA0BPokC97

— Fahmi Reza (@kuasasiswa) September 6, 2022
And so did he:
UPDATE: Orang awam dah fixed the #jerebu mural!

Seorang warga KL dah betulkan mural yang diconteng semalam! Dia share gambar ni dalam ruangan komen FB aku. Terima kasih Robinn!

Kepada budak yg conteng mural tu, berhentilah buat kerja sia-sia. Kamu conteng, kita cat balik! 🤘🏼 pic.twitter.com/mq0SiOxxNO

— Fahmi Reza (@kuasasiswa) September 7, 2022
But last night two men were spotted at the site completely covering it up. The irony in this is that they used grey paint. That's one way to send the message that a haze is expected soon.
Update mural #jerebu… https://t.co/Ps58Cv6eIt

— Fahmi Reza (@kuasasiswa) September 7, 2022
In just 3 days, the mural was gone. But it things stay on the internet forever, and it's been making its usual rounds on all platforms.
— Fahmi Reza (@kuasasiswa) September 8, 2022
According to The Vibes, the artist confirmed that the mural was being covered up due to the fact that no prior permission was obtained to paint on the wall, which belongs to an unoccupied Wisma Megah located on Jalan Tun HS Lee in the city centre.
There are speculations about the owner of the building, and who holds the stake now. Some say that it belongs to Mammoth Empire Bhd, which is known for the construction of Empire City in Damansara, but it was sold in 2018 for RM43 million. JUICE cannot verify the authenticity of this claim.
In 2019, however, Malaysia was officially rated as the worst air-polluted country in the world. This led to netizens creating a mock campaign to 'blow back the haze to Indonesia' by using standing and toy fans.
So in short, expect a haze soon and stop open burning! Stay safe <3