Freedom Film Fest Showcases Films on M'sia's War On Drugs, Censorship, Indigenous Rights & More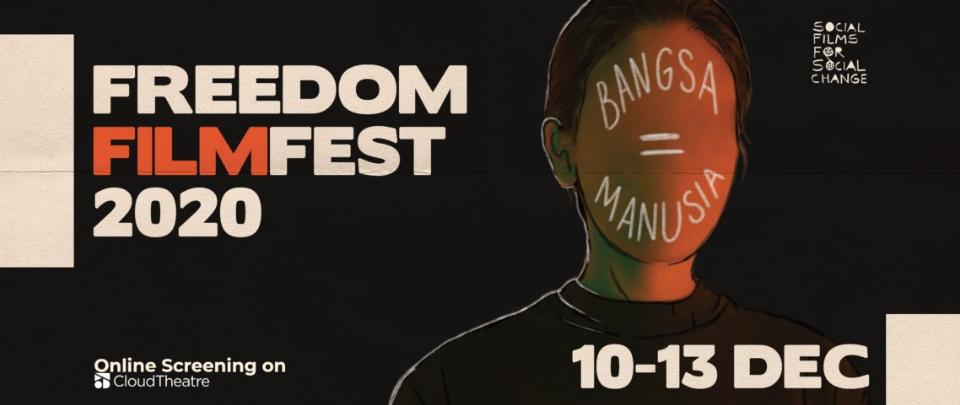 As an avid filmgoer and self-proclaimed cinephile, it came as exciting news to me when Freedom Film Fest (FFF) decided that the show must go on… albeit virtually.
For the uninitiated, Freedom Film Fest is Malaysia's leading human rights documentary film festival that often showcases movies that tackle topics not commonly seen in mainstream media. Since the pandemic has rendered all filmgoers to be hermits, the next best step to ensure we would still get access to the untold, unheard and unseen stories of our homeland was to transform the event into a virtual one.
Resurrecting from 10 – 13 December 2020, this year's festival is themed "Bangsa: Manusia" (Race: Human). It will feature 8 local stories and 1 Singaporean title among other docs as well. Freedom Film Network executive, director Anna Har, said,
"These voices have been left out and ignored in the national discourse, often drowned out by the more dominant discourse of race and religion in our country. Through FFF, they have an opportunity to voice out their own perspectives and hopes and more importantly to be treated as human beings with equal rights."
Without further ado, here are some of the films that will be premiering at this year's FFF that caught my eye…
Ayahku, Dr. Ganja
Malaysia's current war on drugs has caused bloodshed that goes against our forefather's dreams of freeing the country from the hold of things that could harm us without resulting in violence.
One such prominent figure that has been at the forefront of medical marijuana in Malaysia is Dr. Ganja, a military retiree whose real name is Amiruddin Nadarajan Abdullah. In 2017, he was arrested for 36 counts of drug-related offences under the Dangerous Drugs Act in Malaysia and faces the mandatory death penalty if found guilty.
Discovering that the use of marijuana ailed his chronic illness, Dr. Ganja helped others treat their epilepsy and leukemia in Malaysia by recommending the drug.
The film Ayahku, Dr. Ganja revolves around his daughter, Siti who finds herself at the centre of unrelenting legal proceedings and prison visits after her father's arrest. In her journey to battle for the destigmatisation of drugs in Malaysia as well as her own bouts of fear and anxiety, she navigates through personal challenges and the looming thought that she may never see her father again.
According to directors, Loh Jo Yee, Hidayah Hisham and Dominique Teoh, Ayahku, Dr. Ganja is a story of  Siti's strength as she attempts to unshackle her father from a law that puts punishment before public health.
Suloh
This stop-motion animation that integrates clay puppets tells the story of Kak Eton, a 40-year-old woman who laments after her husband leaves her for another woman.
Told with poetic vision, the film focuses on her as she attempts to rebuild her life in the wake of her husband's absence. Set in a kampung, Suloh is sure to evoke a connection within viewers to their respective hometowns and the people who reside there.
Reminiscent of works put out by Laika Productions, those who appreciate stop-motion animation will enjoy the local twist Suloh has to offer to the genre.
The Shades of Love
While JUICE has only grazed the surface on what it feels like to be involved in sex work, Singaporean filmmaker and FFF2020 film grant winner, Jessica Lee, delves deep into the topic of sex work in her homeland by collecting testimonies and lived experiences by those hustling on the streets.
With the majority of them being part of marginalised groups in Singapore, Jessica aims to unpack the harsh realities faced by the workers who have suffered years of harassment, discrimination and violence. The Covid-19 pandemic has driven a wedge in the sex work industry yet it's not as highly talked about as other suffering enterprises.
According to Jessica, the separation of classes is apparent and the pandemic has "laid bare the stark contrast between the haves and have-nots."
The Shades of Love portrays these struggles under the harsh fluorescent lights and within the eerie dark alleys of Singapore, making it a film you should not miss.
For the full list of movies premiering at the festival, click here.
Full schedule and tickets for FFF will be available from 1 December onwards. 
To know more, head over to their website.