PH Draws Inspiration From 'Squid Game' For Melaka Elections & Netizens Have Mixed Feelings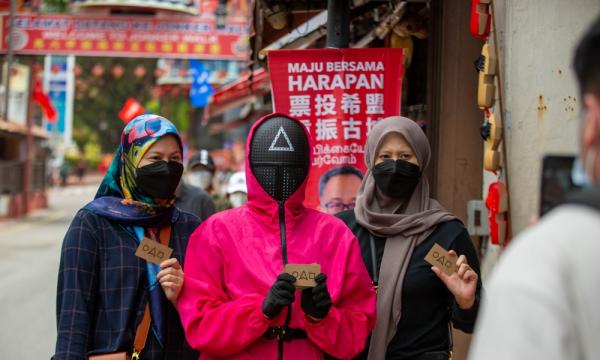 Elections can bring out the best and worst in Malaysian politics for being a cut-throat competition between members of the parliament.
However, this time around, for the Melaka state elections, political campaigners are unsheathing their creative side in order to win the votes.
Due to the massive success of South Korean TV show, Squid Game, DAP Malaysia is integrating a card invitation system seen in the show to incite voters.
Watch it below:
Mantap 👍 pic.twitter.com/3XBH3hEm1T

— KamiKeadiLan (@kamikeadilan) November 15, 2021
Similar to the TV show, the card has shapes on the front and a message at the back. The message reads, "Do you dare to accept this challenge? Together we shall win back Melaka!"
The cards are seen distributed by individuals clad in pink get-ups and a black mask, which are popularised by the show. There is also a QR code on the card that leads scanners to a website that contains several videos.
According to Malaysiakini, the videos urge voters not to be fooled again by deceptive politicians and to reject "frogs."
While the use of a popular cultural phenomenon may gain the campaign more traction, many are criticising it for its lack of understanding of the show's message.
Dare to take up the challenge?

Vote for Pakatan Harapan and take back Malacca!#PRNMelaka2021 #MajuBersamaHarapan pic.twitter.com/nBCs9MsByb

— DAP Malaysia (@dapmalaysia) November 15, 2021
For those who are unfamiliar, Squid Game is a death match and those who accept the card invitation are basically placing one foot in their grave.
Essentially, the game is a source of entertainment for the rich and mighty at the expense of those suffering from poverty.
To use it as a means of political propaganda is tone deaf but ultimately, not far from the truth as evident from the recent 80,000-strong workers' protest that channelled the series' imagery in South Korea.
Naturally, with every political campaign, the reception was rather polarising. Here are a mix of both positive and negative reactions from the campaign…
Creative 👍👍👍 https://t.co/zgxV3HrNHE

— Maszlee Malik 🏴🇲🇾 (@maszlee) November 16, 2021
It is no secret how politicians will use this time to bribe the nation into voting for them during the elections. Below is a video of a man rejecting this aid, stating, "What have you actually done for our people? You only come around when you want votes."
Uncle tu suruh dia orang balik.

Dia tanya "Apa kau orang buat untuk orang Tamil? Kau orang datang bila nak undi sahaja." pic.twitter.com/kqG2WjOsFi

— Zulimran Nasution (@chean_nasution) November 15, 2021
In retrospect, maybe the use of an exploitative game is appropriate for Malaysian political elections after all.