Kuman Pictures Decides To Fully Crowdfund "Pendatang", A Local Movie About Racial Segregation
Imagine a world where every race is forbidden to have relations, or even just mingle, with other races. Needless to say, there's already a few outcomes that pop up in your head; riots would happen, some families would be hiding other races to protect them, and human trafficking.
Sound interesting? That's what the locally produced film, Pendatang, is all about. The movie focuses on a Chinese family who moves into their new home, only to find a Malay girl taking refuge there.
But before you start to search up any illegal streaming sites for the dystopian thriller, the film is actually still in the works and the producers, Kuman Pictures, have decided to crowdfund the project.
According to their Facebook page, the film was not made for commercial purposes and they want their cast and crew to be properly paid. The movie will be uploaded on YouTube for all to watch for free by August 31 next year.
"This is a Malaysian story made by Malaysians, for Malaysians to watch – and we want to try to get the support of as many Malaysians as well."
The target would be to raise up to RM300,000 throughout 8 August 8 – 30 September 2022 on the Indiegogo platform. There are six different tiers allocated for types of donations, ranging from RM44 to RM44,520.
Each donation rank and contributions will include their own perks to donors, such as exclusive merchandise from the production.
"If the funding of this film does not reach the target, the story of the coming will end here. But if it succeeds, it could be an inspiration for many more stories that have been hidden, to try crowdfunding methods," says the Facebook post.
"As a Malaysian film company, we are deeply attracted to the diversity of stories: What is a country, if not the stories that are shared within it?"
During the crowdfunding event at GMBB mall last night, Kuman Pictures founder Amir Muhammad commented on the idea behind crowdfunding the entire film:
"Pendatang is not made for commercial gain — it is a Malaysian story by Malaysians for Malaysians and audiences worldwide, and its measure of success will be its reach and the conversations it encourages, not monetary profit," he added.
In terms of the movie itself, Amir explained the context behind the title and what it entails.
"In the context of the story, it's the little Malay girl who is hiding in the Chinese family's house so from the perspective of this Chinese family, the girl is the 'pendatang.'"
"So how they treat her will be reflected and what values they have within themselves," he said.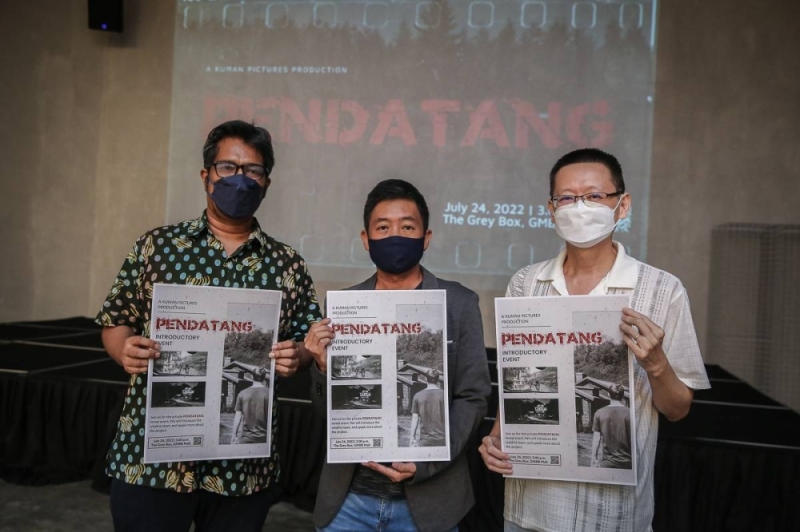 The movie director Ng Ken Kin also chimed in on what he expects the public reaction would be on Pendatang.
"Whatever you do, good or bad, people will always have something to say but on our side, we just need to focus on the right thing like making sure we respect the sensitivity of it regarding the nation and the whole process of making it," he said.
If you'd like to support their movement, head to indiegogo.com to make your contribution!