Keep Calm & Stop Panic Buying… Supermarkets and Eateries Will Still Be Open During CMCO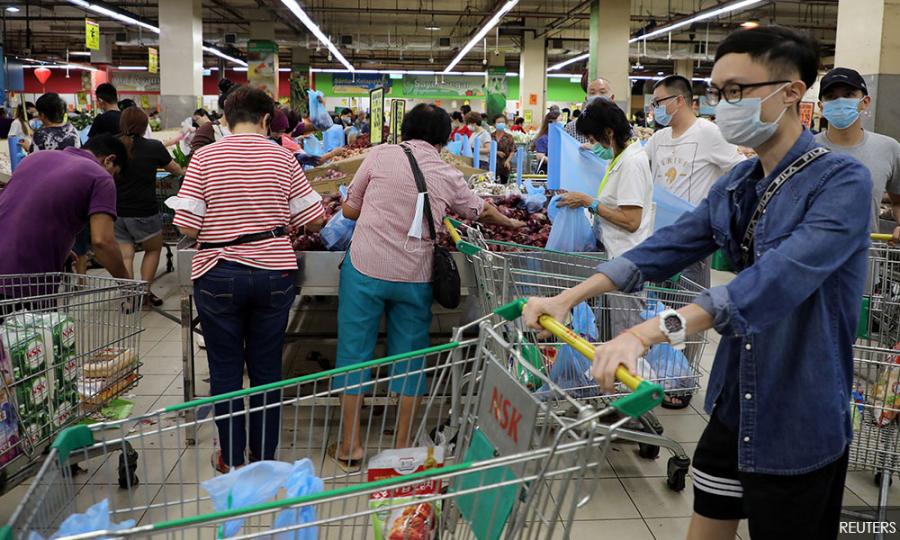 Earlier this year, when MCO was first introduced, Malaysians had their first encounter with panic buying – something we had only seen on foreign news channels before.
Supermarkets were packed with people at the break of dawn, rushing to fill their trolleys with essential items due to the increasing panic. Some even bought three trolleys worth of product in fear that they might not get the chance to purchase their needs later on in the week.
The hysteria got to a point where Gardenia had to issue a statement, claiming they had a shortage of bread due to the overwhelming demand.
Now, it seems like history is repeating itself after the Conditional Movement Control Order (CMCO) was announced with many Malaysians panic buying at their neighbourhood grocery stores since yesterday.
At Klang Valley, one shopper stated that it looked like "the end of the world" with husbands and wives having one trolley each. Hordes of people were swarming in and the expansive queue was definitely not doing the social distancing regulation any favours.
In an interview with FMT, a shopper felt disheartened and sad that Malaysians harbour such fear when we've come such a long way since the first lockdown. However, she did mention that the situation was not as dire as before. She said,
"I didn't really see bulk buying like before, and I think everyone was not in the same competitive mode to buy things. I think everyone was just there because they felt they had to."
Take a look at some of the almost empty supermarkets and long queues post-announcement…
Situasi di Village Grocer, Cyberjaya selepas pengumuman PKPB. pic.twitter.com/dSg89WNc1l

— Cyberjaya Info 🇲🇾 (@Twt_Cyberjaya) October 12, 2020
Situation at Village Grocer MCity 🤦🏽‍♂️ pic.twitter.com/L5boQfUYS5

— TJ (@tj_wong) October 12, 2020
Village Grocer, KL Gateway Mall. First thing yg sold out dulu 😭 pic.twitter.com/kxa3WGo4ld

— Diana Matts (@DiyanaLinza) October 12, 2020
orang dh start beratur panjang dh beli groceries 😓 pic.twitter.com/PELeaOzg8s

— Khairulaming (@khairulaming) October 12, 2020
wHAT did I just say about panic buying can y'all tell your parents/uncle/auntie/sister/brother to stop this is actually putting them more at risk https://t.co/oSohBXugWL pic.twitter.com/8hjGZjkE0Z

— Melissa Tiong (@suettyng) October 12, 2020
Here's one tweet with many replies of panic buying in their areas…
Panic buying in your areas? Share with me please.

— FA (@FirdausAzil) October 12, 2020
At this point, it's important to remember that eateries and supermarkets will remain open during this CMCO and you will be able to go out to purchase your items, just make sure to leave the house with only two people in the car.
For a more comprehensive guide on the regulations, click here.
Let's stay home and flatten the curve together. There's no need for panic. And if you're still feeling blue, try checking out our DESIGN and SOUNDS sections, it's filled with soothing visuals and music.