JUICE Picks Old Skool PS2 Games That Deserve To Be Remastered for PS5… Nostalgia Ahead!
Let's rewind time to the simpler days when life was much easier and games looked clunky and had questionable physics yet brought us the most unadulterated joy.
Here at JUICE, we love waxing nostalgic by reminiscing on childhood TV shows and old skool memorabilia so it comes as no surprise that we would offer you a list of all our favourite PS2 games.
Arguably the best console ever released by Play Station, almost all Malaysians can remember getting bootleg PS2 games for RM10 a pop as if they were sweets at a candy store.
Rushing home to put in that shiny new disk and watching the PS2 load up has got to be one of the most nostalgic experiences of our generation and since life hasn't been so fantastic for us as adults, let's take a trip down memory lane.
Without further ado, here are JUICE's picks for old skool PS2 games that should be remastered for PS5 so we can feel that sense of winsome glee again…
Ameera's Picks
Rocket Power: Beach Bandits
Some people may argue that Tony Hawk is the king of skateboarding but I beg to differ. In my humble opinion, I believe the four young friends of Rocket Power pioneered the sport.
In this game, we play as the characters from Rocket Power as we try to unravel the mystery behind the missing sand at Ocean Shore's beach. Naturally, with no sand, there can be no summer fun!
As the story progresses, we get to destroy ramps as Otto Rocket, grind rails as Regina Rocket and swing hockey sticks as Sam Dullard and Maurice Rodriguez.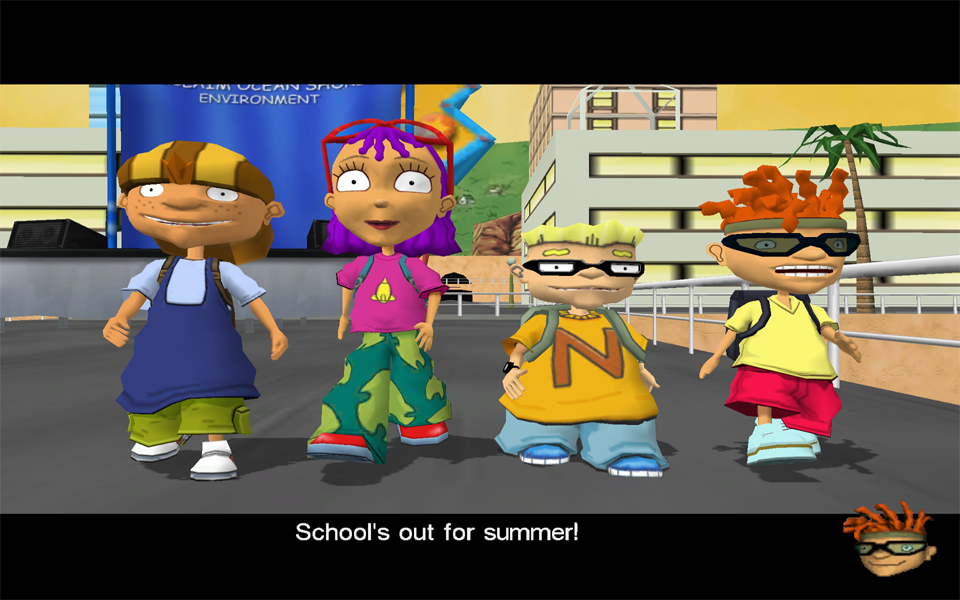 The game just oozes cool and relaxed which is why it could be perfect for some of you stressed-out adults who are reading this article right now.
Just imagine. After a long day of dealing with fussy clients at work, you get to come home, light one, sit down and pretend you're skating on ramps by the beach.
I think I've made my case.
The Simpsons: Hit & Run
Quick. Name the game that has the most extensive world map.
If you said any other game that isn't The Simpsons: Hit & Run, then you'd be objectively wrong.
While it did get remastered by a fan only recently, the shiny new look just pales in comparison to the old nostalgic graphics from the PS2 era. Therefore, we need another attempt that preserves its charm whilst still being playable on modern consoles.
In this game, we play as the characters from The Simpsons as we drive Homer's pink convertible through glass Krusty the Clown soda advertisements and the busy roads of Springfield to complete various missions.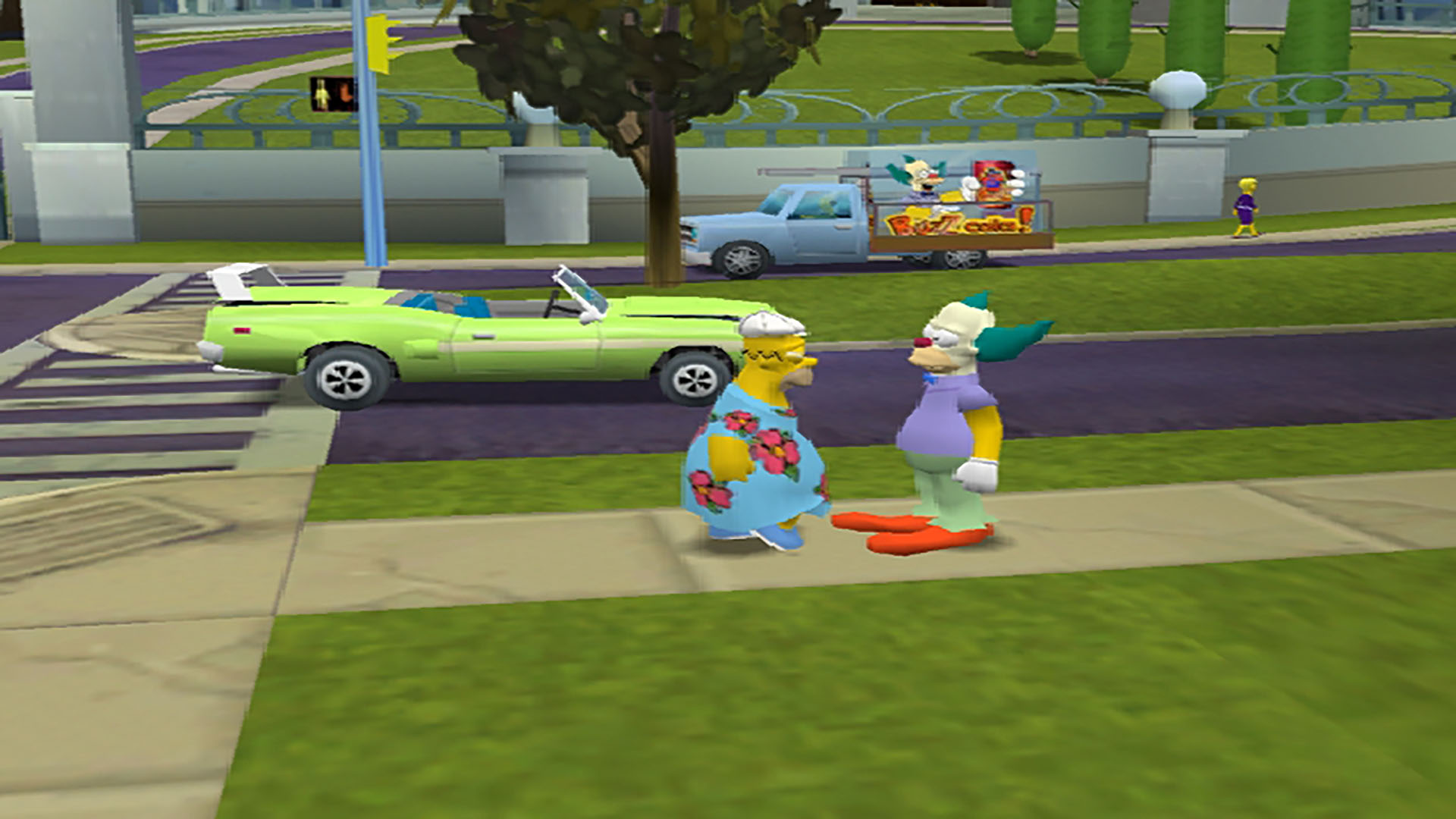 All of our favourite The Simpsons characters make a cameo and it's satisfying to watch Homer interact with all of them before we're off to investigate a nuclear power plant conspiracy – as one casually does.
As we progress in the game, we unlock sick new rides for Homer and even get to play as Marge, Bart and Lisa.
The main appeal is definitely The Simpsons' strong branding but the extensive map and fun missions complement it beautifully.
Truth be told, I haven't had fun ever since so, please remaster this game for PS5 before my inevitable demise.
Barbie Horse Adventures
Now, before you say anything… Hear me out!
Prior to the release of Red Dead Redemption, we had the one true reigning leader of the cowboy game genre and that was Barbie Horse Adventures. In all honesty, Barbie walked so John Marston and Arthur Morgan could run (or gallop)!
I am an avid believer that games should bring you a sense of calm and joy and that is exactly what Barbie Horse Adventures gifted to me as a child.
Riding horses across terrains, snowy mountains and sprawling beaches felt like a form of escapism. Although I didn't have much debilitating troubles as a 10-year-old at the time, as an adult, I wish I could still play this game and feel that fleeting sense of peace.
The game is effortlessly fun. After a wretched storm at the stables, all the horses and ponies escaped so, it's our job to rein them back home.
As you play, you get to feed the horses sugar cubes and carrots, ride on mini games across beautiful locations and even give the horses a bath. Of course, you also get to unlock some gnarly Y2k cowgirl outfits for Barbie.
Simple in it's gameplay, yet packs a massive punch in terms of serotonin, Barbie Horse Adventures deserves to be remastered so I can sit down as a 23-year-old and ride some cute horses instead of this tumultuous wave of adulthood.
Safa's Picks
Guitar Hero 3: Legends Of Rock
It would be culturally irresponsible for us to compile this list without mentioning Guitar Hero 3: Legends Of Rock. The other Guitar Hero games that came after never quite lived up to the hype of this particular one. 
This was the game that made you wish you were as cool as your older cousins, who managed to actually get through a whole song without failing midway. My 8-year-old fingers could not keep up (even on Easy mode) but that didn't take away from the enjoyment of just trying.
The exaggerated sounds of the guitar strings breaking when we missed the notes might be painfully lodged in our brains, but thankfully so is the (usually short-lived) adrenaline rush from the Star Power reverb.
I managed to hone my GH3 skills when I was in my teens, when nobody played it anymore :') So this game needs to be remastered for the PS5, because how else will I redeem myself?
Now, it is my turn to be the cool cousin. Just don't make me play DragonForce's Through The Fire And Flames.
SpongeBob SquarePants: Lights, Camera, Pants!
Don't tell me you like playing party games on your console without ever having played SpongeBob SquarePants: Lights, Camera, Pants! This gem is one of those chaotic games where you just wonder how (and why) the developers came up with it all.
The premise of it is a game show starring our Bikini Bottom friends. You play 30 mini games with up to 4 players and needless to say, the game is unhinged. One minute you're serving orders at the Krusty Krab, the next you're blowing air in your pants at the Bikini Bottom beach and… farting to the finish line?
Although my memories of this game feel like a fever dream, revisiting this game is making me miss the chaos.
The entire point of the Bikini Bottom game show is totally lost at this point. I'm just sure life was probably simpler when we only had to worry about racing on fish hooks to grab an obscure piece of cheese.
Hamizan's Picks
Ratchet: Deadlocked
I'll be honest, I didn't play most of the Triple-A releases on the PS2 as I got my first system of any kind at the tail end of its lifespan (circa late 2008). But the game I spent most of my time on was this gem of a first-person shooter.
The fourth game in the Ratchet & Clank series of games – and the last to be released on the console – you play everyone's favourite Lombax (sans robot sidekick) as he navigates his way out of the 'DreadZone'.
The futuristic, Roman Colloseum-like battle free-for-all is the brainchild of evil mastermind Gleeman Vox, who lures Ratchet into participating so he can further market his sick game show across the fictitious known galaxy.
The game design and challenging levels made for an engaging play-through, and even has many collectibles and weapons to power up, making the replay-value insanely high – as my some 500 hours logged will attest. I suppose I will forever wonder what happened to Ace Hardlight…
Digimon Rumble Arena 2
Picture this, you've had a long day at school, it's a rainy day, and co-curriculum just got cancelled by some divine intervention. You dash home, with Scouts uniform dishevelled and scarf neckerchief askew, and slam into the console a bootleg disc of Digimon Rumble Arena 2.
Instantly all your adolescent troubles fade away, as you button mash all AI comers into submission with the indomitable (and honestly broken) Omnimon. Who needs lunch when the pixel representations of blood from your enemies is enough to keep you going until sundown?
Playstation's answer to Nintendo's wildly successful Super Smash Bros franchise, I honestly can't believe this game has not been rebooted properly. It's a platform brawler that is equally fun solo or multiplayer (up to 4 players, extra controllers and splitter thingie sold separately), and I remember many an afternoon spent cursing Phantomon for 1HKO-ing my fully evolved character.
Sure, the PS3 got Digimon All Star Rumble back in 2014, but the drop-off in ratings speaks for itself. We need the cool, uncomplicated fun of number 2 back, Bandai – and you can leave out all the Digimons past gen-4, thanks.
Quinny's Picks
Tekken 5
This game walked so that Mortal Kombat, Injustice, and all other fighter games today could run. Now I know the real OGs are gonna come after me for its predecessor, but you can't deny the gameplay seriously upgraded from the last version.
The main single-player mode of play in Tekken 5 is the story mode, which takes you through a handful of fights, starting with some still frames and voice-over to help you understand what each individual fighter is fighting for.
Along the way, you'll square off with some fighters that are tied to that story, giving you some pre and post-fight dialogue.
When you reach the story's conclusion, you are given some static screens with text and a full-fledged, pre-rendered ending for each character. It's a fun look at the characters that you don't normally get in the context of a fighting game, and helps give the impression that whoever made Tekken 5 must have had a lot of fun along the way.
Whether or not you're a button smasher, or a skilled combo expert, this game was guaranteed a good time and definitely deserves a comeback.
Grand Theft Auto: San Andreas
I'm doing a major exposé on myself, but this was one of my guilty pleasures from back in the day that probably fostered my driving habits before I even got a license [Ed's Note – yellow light means slow down, not go faster]. And c'mon, you can't beat the classics!
While Rockstar, the game developing company, consistently found bold new ways to raise the open-world bar, 2004's GTA: San Andreas represented a leap forward like I'd never been seen before.
The game's vast, vibrant state of San Andreas became a perfect playground for players to have CJ and his cohorts survive gang shootouts, high-speed police chases, and frantic, sprawling heists on foot or in dozens of different vehicles.
San Andreas also introduced RPG and survival elements into the series for the first time, like tracking what CJ ate or how much he worked out, and adjusting his abilities accordingly.
While all of the GTA series are classics in their own right, San Andreas is one of the most robust and memorable open-world games ever made, and the pinnacle of the gaming experience on the PlayStation 2.
Karissa's Picks
Bratz: Rock Angelz
Who grew up being an unapologetic bad bitch? I did. Why? Cause Bratz had me in a chokehold throughout my childhood.
If you could relate, you should know that they might just be our first fashion influencers and two decades since their launch, Bratz continues to influence and inspire our adult wardrobes. Stylin'!
But besides their actual dolls and books, one of their most iconic releases from Bratz: Rock Angelz came in the form of a 2005 game for PS2 – and to tell you that I was excited is an understatement.
The Bratz: Rock Angelz game takes inspiration from the movie of the same name and focuses on fashion as the Bratz girls start their own fashion magazine.
View this post on Instagram
It's pretty straightforward and fun tbh. You get creative liberty to style the girls' hair, hand-draw their makeup, and assemble cute outfits for each Bratz. You could even create your own posters for their "concert" which had me thinking I was a professional graphics designer.
There are mini-games that let you participate in modelling competitions, or you can roller skate around to help a friend retrieve some papers thrown by the wind. There's even one mission that has players lead bunnies back to the park after straying too far into the city.
It's wholesome and doesn't require a lot of brainpower – so you know, hot girl shit! In fact, you could even play it now to relieve your Y2k fashion dream as the game has been re-released this year and is available for Game Boy Advance, GameCube, and PC.
Bully
While I didn't get my hands on Rockstar's Bully personally, I was first introduced to it through my brother who was playing at that time and surprisingly, the game stuck out to me 'til now.
Bully was a 2006 open-world game where you took control of interminable "never-do-well", Jimmy Hopkins. You would have to go through an entire school year, from October to summertime, and navigate student life.
The 2000s was obsessed with social hierarchies and in this game, Bullworth is divided into exaggerated subcultures like preps, jocks, nerds, greasers and even tattle-tales. Basically, it's GTA but for smaller kids, lmao.
The truth is, Bully didn't have much to do with bullying at all. In fact, it has a shockingly empathetic story.
Okay well, yeah, Hopkins was responsible for some light, cartoonish pranks but narratively, the game casts him as an outsider of the "elites".
The game has an extreme distaste for a certain breed of self-satisfied rich pricks and Hopkins primary quest is to destabilize the power systems in place at Bullworth. He does so by forging alliances with the misfits who've spent their high school years underneath the thumb of the school's elite.
While they might've been teaching kids to be anarchists, I'm not one to complain. Power to the people, gitchew…
So, there you have it!
What are your favourite PS2 games? Be sure to let us know in the comments…