The Breakdown of A Possible RM50K Fine For M'sian Woman Who Posted An Image of A Vulva on Twitter

Despite happening late last year, it seems that the impact of a controversial and now infamous campaign ad by a sanitary pad brand is still lingering on the internet and has now affected a young Malaysian woman.
As a refresher, the brand released sanitary pads with a flower motif that was meant to allude to the differing and beautiful female vulva.
The vagina-inspired design was celebrated by the masses but a minority of individuals – even women – took offence to it.
The issue exploded when YADIM Muslim Women's Council (MAYA) accused the brand of undermining the dignity of women as well as disrespecting and degrading them by using the design for their promotional ads.
JUICE broke down our thoughts on the whole ordeal when it initially happened but we did not anticipate that it could lead to a court case involving an activist by the name of Amira Nur Afiqah Agus Salim.
What Happened to Amira?
The 25-year-old married woman who works as an operator at a hotel company has been charged with disseminating pornography at the Kuala Lumpur Sessions Court after uploading an image of vulvas on Twitter in support of the campaign.
She pleaded not guilty to the charge which was read to her on July 5.
Known as an activist for women's rights by those who follow her on Twitter, Amira a.k.a @amiranafqh faces a hefty fine and imprisonment if she's found guilty under Section 233 (1)(a) of the Communications and Multimedia Act 1998.
She could be slapped with a maximum fine of RM50,000 or imprisonment for up to one year, or both, and a further fine of RM1,000 for each day the offence is continued after conviction.
The prosecution asked the court to impose RM5,000 bail against Amira, while the defence pleaded for minimum bail of RM2,000 as the accused needed to support her parents, as reported by New Straits Times.
"My client's husband does not have a stable income as he works as a freelance video editor. We will also be writing a representation letter to the Attorney General's Chambers to dismiss the case," he said.
The court set RM3,000 bail and ordered Amira to report to the nearest police station once a month.
After hearing the news, JUICE decided to dig into the case even further to understand how exactly this could have happened.
From there, we constructed a timeline of events that led to the court summon and how an image uploaded onto Twitter could potentially change the trajectory of her and her family's life significantly.
This is what we found out…
The Breakdown of Amira's Court Case Timeline
Based on our investigation, this all started back in 19 September 2021.
After numerous debates on the sanitary pad packaging, a Twitter user – whose name we have redacted to protect Amira's ongoing court case – posted to Twitter inquiring about the packaging of condoms and whether it has pictures of penises on it.
Amira responded to the tweet with various images of condoms, illustrating that condoms will commonly have penis-motif as their design.
The Twitter user then said that they had no problem with penis motifs and was strictly asking if condoms had actual penises as its design.
They also asked if the condoms shown by Amira were marketed and sold in Malaysia.
Amira responded by confirming that the condoms were sold in Malaysia and that the line of questioning had nothing to do with the sanitary pad brand as they did not use actual vulvas on their packaging either.
She attached a picture of actual vulvas in addition to her comment.
As we all know by now, this is how the packaging looks like and it is only adorned with flowers that resemble a vulva.
Unbeknownst to Amira, the photo she posted would soon lead to the court summon in current day.
After knowing the full details of what happened, it begs the question: Was the image of vulvas posted by Amira considered pornography or was it actually educational?
Nudity =/= Pornography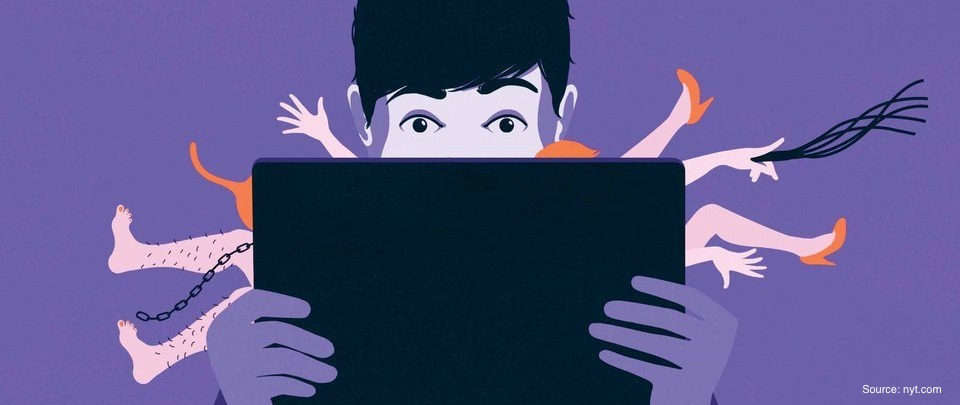 By definition, pornography is printed or visual material containing the explicit description or display of sexual organs or activity, intended to stimulate sexual excitement.
The intention of the material is highly relevant and in this case, was Amira trying to incite sexual arousal or was she simply illustrating her point to educate another individual who was asking her a question?
Nudity does not equate to pornography and the simplest example of this is in medical textbooks.
Genitalia is displayed fully but it is clearly meant for educational purposes. This logic transfers to any other image posted with the context of education.
To suggest that Amira's tweet was pornographic in nature is a far reach and since the case is still ongoing, we hope that the court will come to this verdict as well.
The nuances of posting online has been debated time and time again in Malaysia due to our ultra-conservative tendencies and heavy-handed censorship.
Reprimanding a young woman for educating and advocating online will sure inflict a huge dent in our free speech and will potentially alter the fabric of our communication and education system in the future.
To understand Amira more as a human being who is passionate about women's rights and advocacy, this is a list of her existing initiatives from what we have found online…
Gathered over 100 women to join a community dedicated in making women feel safer
Hello everyone!
Here is a support group for survivors of rape and sexual assaults/harassments. Let me know if you'd like to be a part of is to share your stories and spread awareness to others 🌸💕 pic.twitter.com/zfYa17blii

— ᴍᴜᴍᴍʏ ᴀʟᴇꜱꜱᴀɴᴅʀᴀ (@amiranafqh) February 28, 2019
Conducted women-only workshops with various issues; mental health, sexual abuse, menstruation, self-love
WOMEN GO THROUGH THIS EVERYDAY. Do we deserve it? Unreported cases have increased throughout the year and there's no proper solution for it. Why don't we take a step and make a change no matter how big or small the changes is.
Let's help the victimized and empower each other! pic.twitter.com/S15v03cdgU

— OwhMyBae (@owhmybae) May 2, 2019
Spoke up against child marriage and urged the ban of all kinds of child marriages
Invited to speak on censorship during International Women's Day
View this post on Instagram
Now that we've broken down the timeline of events, it gives us a deeper understanding as to how this all transpired while we wait for the court's decision.
We wish Amira luck in her court proceedings and hope that this will not deter women from speaking their minds and fighting for what they believe is right – even in the face of clear adversaries.