Attention Lovebirds! Here Are The Top M'sian Honeymoon Spots For A Romantic Local Getaway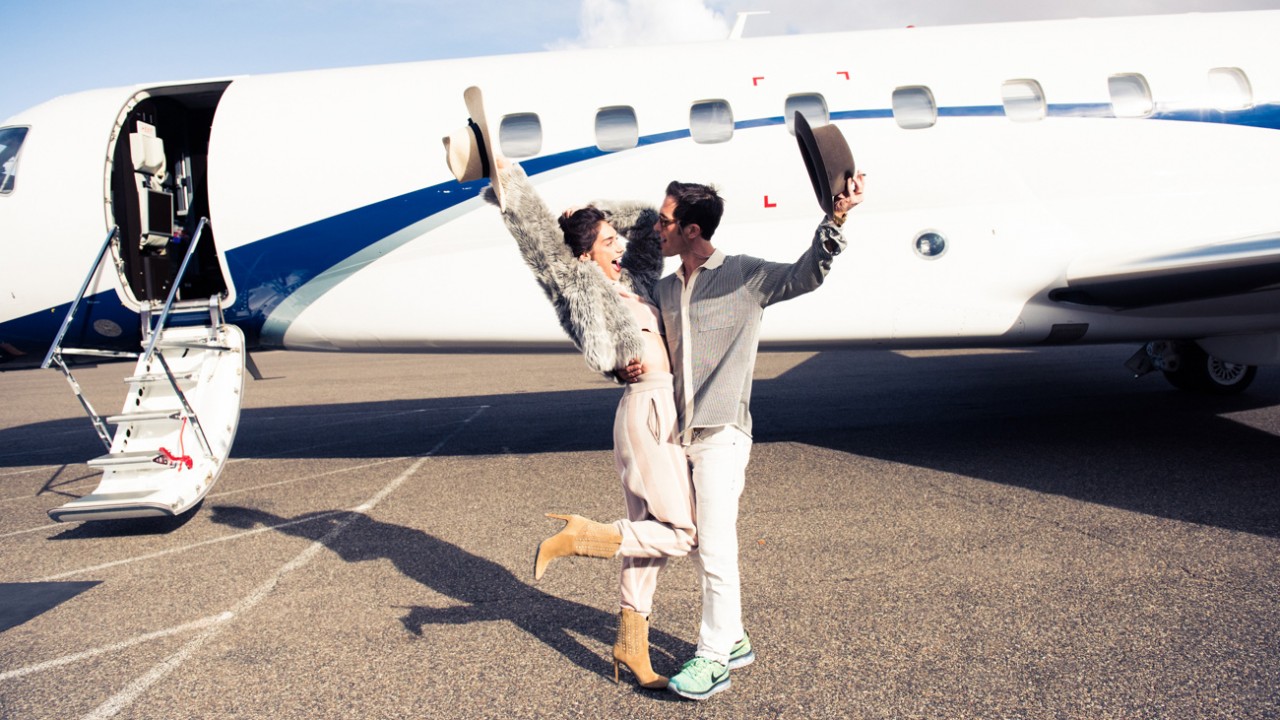 Is it starting to feel like everyone's getting married or is it just me?
Well, since the wedding bells aren't ringing for me anytime soon, I thought I would at least help my newlywed friends out with a few destination spots for their honeymoon.
With that, JUICE has compiled a few spots that will definitely excite all you romantic lovers out there.
Without further ado, here they are… Also, you might want to play some sexy saxophone music while you read, just so you can imagine yourself there.
1. Ambong-Ambong Langkawi Rainforest, Kedah
There's nothing more romantic than a secluded forest villa just for the two of you.
Located amidst lush greenery and only a 5-minute walk away from the beautiful Pantai Tengah beach, this gorgeous spot is definitely a great choice for you and your partner.
Perfect for lovers of adventure and strenuous activities outside of the bedroom (wink wink), guests can go diving, fishing, hiking, wind surfing and even gardening!
But don't worry, if you're just there to relax, the hot tubs, spas and swimming pools will surely kickstart a hopefully stress-free marriage… fingers crossed.
Ambong even has an award winning Unkaizan Japanese restaurant that's halal. If you're not into that, BBQ is available as well. That'll be a great test to see if you married a good cook!
To check out Ambong-Ambong, click here.
2. MaliHom Private Estate, Penang
I'm sorry but I don't think there's anything more beautiful than a well-kept forest. Just picture yourselves as Tarzan and Jane swinging from one vine to another. How is that not romantic?
This gorgeous getaway received exceptional reviews for its friendly staff, delicious food and obviously, its out-of-this-world location.
The perfect place to feel the serene mountain breeze as you take a dip in the pool that overlooks an expansive forest, you and your loved one will surely get the full honeymoon experience with this location.
However, while the view is absolutely stunning and you have a fantastic restaurant to dine at, if you're still looking to explore outside of your hotel, that might be a bit difficult.
The resort is located on a steep hill and most guests recommend you getting your essentials before check-in since you'll have to rely on the hotel's transportation to travel.
Other than that, MaliHom is heaven on Earth. Check it out here.
3. Gaya Island Resort, Sabah
This private island is perfect for couples who prioritise seclusion and sandy beaches. With only a limited amount of people on the island yet bountiful fun activities for the daytime and the nighttime, guests will have ample space and privacy to enjoy their honeymoon.
The obvious winners for Gaya Island Resort is definitely its crystal clear blue water and scenic routes which makes you feel like you're actually overseas in The Maldives.
So, for those travel bugs who long for a vacation far away from home, I think you've found your pick.
Guests compliment the hotel's staff for their friendliness as well as the 3 restaurants for being diverse yet equally delicious. For those who are picky eaters, don't worry, for the restaurants actually cater to your dietary needs and tastes.
If you're interested in spending quality time with your love amongst lush greenery, soft sandy beaches and magnificent blue water, check out Gaya Island Resort here.
4. Villa Samadhi, Kuala Lumpur
Are you a bougie babe/boy? Then the Villa Samadhi is the perfect getaway spot for you.
Located in the upscale areas of Kuala Lumpur where you might see some T20 people hanging out, these rustic looking cabanas that are interconnected to a luxurious pool offer a change of scenery from the bustling capital.
If you and your partner are lovers of luxury hotels that still feel very personal and quaint, Villa Samadhi has that in spades.
The fan favourite amenity at this hotel is definitely the temperature-regulated jacuzzi that invites some sexy saxophone music, scented candles and bubbly.
But of course, similar to other hotels mentioned, the food is top notch.
If you're itching to see for yourself, check it out here.
5. Mangala Resort, Pahang
Take a dip then lounge at a cosy gazebo at this secluded and lusciously green honeymoon spot in Kuantan.
From the pictures alone, the colour palette in itself is soothing and we're not even there yet.
Just imagine yourself feeling the cool breeze, breathing in abundantly fresh air, and sipping hot tea after a swim. Then imagine yourself doing all that with someone you have decided to spend the rest of your life with… Heaven on Earth!
If this drone shot doesn't sell you on the magnificence of the place, I don't know what will.
Surrounded by a massive lake, forest and private chalets, you're guaranteed an unbothered and idyllic stay.
Despite its super close connection to nature, you can still enjoy technology in the form of their game room. So, it's the best of both worlds, really.
To check it out, click here.
6. Tanjong Jara, Terengganu
Want to feeling-feeling Noah and Allie on your honeymoon? Look no further than Tanjung Jara resort!
Just take a look at that wide beach, foamy ocean water, and soft sand then tell me you wouldn't book a room right now even if you're not getting married.
Tanjung Jara is well-known for being the destination spot for newlyweds due to their priority on privacy and romance. With various small, secluded areas to chill at with your bae scattered across the resort, you'll never be bothered again.
Of course, the ambience is magnificent with sounds of waves crashing the beach and birds chirping amidst the trees but it's even more heightened at night with their fantastic bars and restaurants.
The traditional Malay architecture enclosed within well-kept nature has attracted tourists from all across the world so you can thank your lucky stars that you don't have to fly to a different country to experience the allure of Tanjung Jara.
Check it out here.
7. Mulu Marriott, Sarawak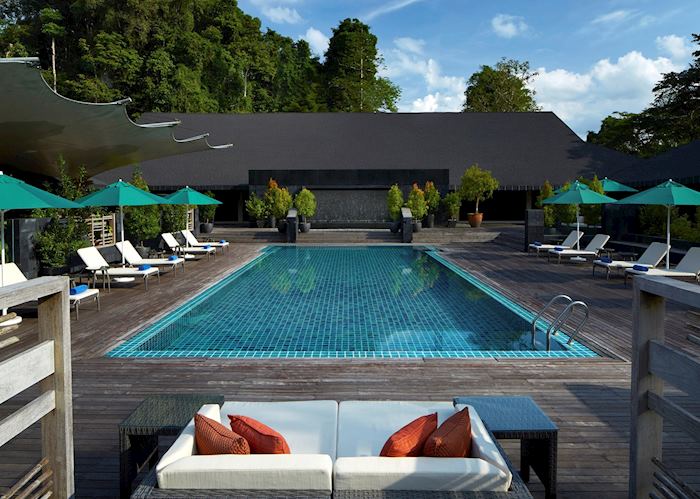 Nestled within the Borneo Rainforest, this resort is the perfect place to unplug from your busy life in the city and just enjoy your honeymoon with the love of your life.
Known for not having many guests since its an undiscovered gem, many guests sing Mulu Marriott's praises for being one of the most private getaways they've ever had.
The main attraction of this hotel is definitely its seclusion which forces you to stop overthinking about work at home and just let yourself go.
Only a short distance away from popular Mulu attractions, guests call this the perfect resting stop for those up for the full Mulu Adventure. The popular surrounding landmarks are Gunung Mulu National Park, Deer Cave and Pinnacles trails.
So, you up for that adventure? Check out Mulu Marriott here.
8. Pangkor Laut, Perak
Imagine the warm breeze in your hair as your partner serenades you with a lilting guitar cover of your favourite love ballad. Hold on, let me grab some tissues and cry due to my loneliness… but I'm happy for you lovebirds reading this!
This quiet, secluded island is perfect for those private lil birdies who prefer some time alone, isolated from the bustling world. The greatest getaway to imagine the life you're about to embark on, Pangkor Laut has many chill spots where you can ponder your future together.
And that magnificent view of the vast ocean doesn't hurt either…
This resort has many notable water activities in case you're not just focused on the bedroom activities… The restaurants at the island also serve fantastic Peranakan, Japanese and Western food for those of you who like variety.
So enjoy a picnic or private dinner by the beach, and bask in the swirls of orange and pink during sunset with your significant other.
To check it out, click here.
As you can clearly conclude from the list above, Malaysia is beautiful and it actually has some of the most desirable vacation and honeymoon spots in the world.
To make do with the current pandemic, don't feel bummed that you had to cancel your Eurotrip because you can always go cuti-cuti Malaysia!