JUICE Picks 6 Of Our Favourite Local Eateries That We Believe Should Receive A Michelin Star
After being snubbed from receiving the Michelin Star time and time again, Malaysia has finally been recognised by the Michelin Guide, with four eateries awarded one Michelin star each.
These restaurants are DC by Darren Chin, Dewakan, Au Jardin and Auntie Gaik Lean's Old School Eatery.
Other than the aforementioned four, 32 eateries were given the Michelin Bib Gourmand, which signifies good food at affordable prices.
Check them out below:
Apart from that, 61 other eateries were mentioned by the Michelin Guide as being noteworthy spots as well.
Check them out below because you might recognise some of them:
With that said, netizens believed that the list felt too "touristy" and did not embody what true Malaysians love to eat.
So, as self-proclaimed "true" Malaysians ourselves, we would like to weigh in on the discussion and provide our top picks for eateries that we believe deserve the recognition.
Without further ado, here is our humble guide to fantastic Malaysian food…
Ameera's picks
Nasi Ayam Penyet Mak Lampir
When we think about Michelin star restaurants, we usually imagine an upscale eatery with a 2-month-wait guest list and a fancy server named Marcel (or something else remotely European).
However, that is not normally the case when it comes to delicious food because, as Chef Gusteau from Ratatouille once said, "Anyone can cook."
Located in-front of a flat in Bandar Sunway, the unassuming, Nasi Ayam Penyet Mak Lampir, might just be the best place to get your ayam penyet fix.
The stars of a perfect plate of ayam penyet are usually the sambal and of course, your choice of protein, which is why this place serves the best. The sambal packs a perfectly sweet yet spicy punch, and the protein (you can choose fish or chicken) is usually fried to a point where you can even munch on the bones like they're chips.
On a cold, rainy day, there's nothing better than a hot plate of nasi ayam penyet to warm you up and get you energised!
Warung Tok Cik
In keeping with the theme of underdogs, Warung Tok Cik is a catering service that deserves all the hype it can get.
While it doesn't have a brick and mortar establishment just yet (but best believe I'll be first in line if they do), the food is incredible and it can be enjoyed within the comforts of your own home.
In my humble opinion, the most underrated local dish is definitely a nasi kerabu because despite having all the elements of a quintessential Malaysian meal – protein, rice, vegetables, sambal, gravy and a salted egg – not many people crave it.
I'm here to change that with the help of Warung Tok Cik's incredible nasi kerabu that will have your mouth watering as soon as you open the package.
Perfectly balanced and undeniably delicious, this nasi kerabu has become a personal favourite of mine since the first day I tried it.
Quinny's picks
Botak Nasi Lemak
What makes a good plate of nasi lemak? Everyone has a preference on their perfect serving – but Botak Nasi Lemak has it all.
It's served with fried chicken, coated in their perfectly golden crispy batter that you want to clog your arteries with.
Their sotong sambal is packed with spice and flavour, and they really don't skimp out on the sotong.
And my favourite part? The adequate amount of ikan bilis and kacang – you don't get that at enough places! Definitely worth a star in my book.
Ooi Noodle House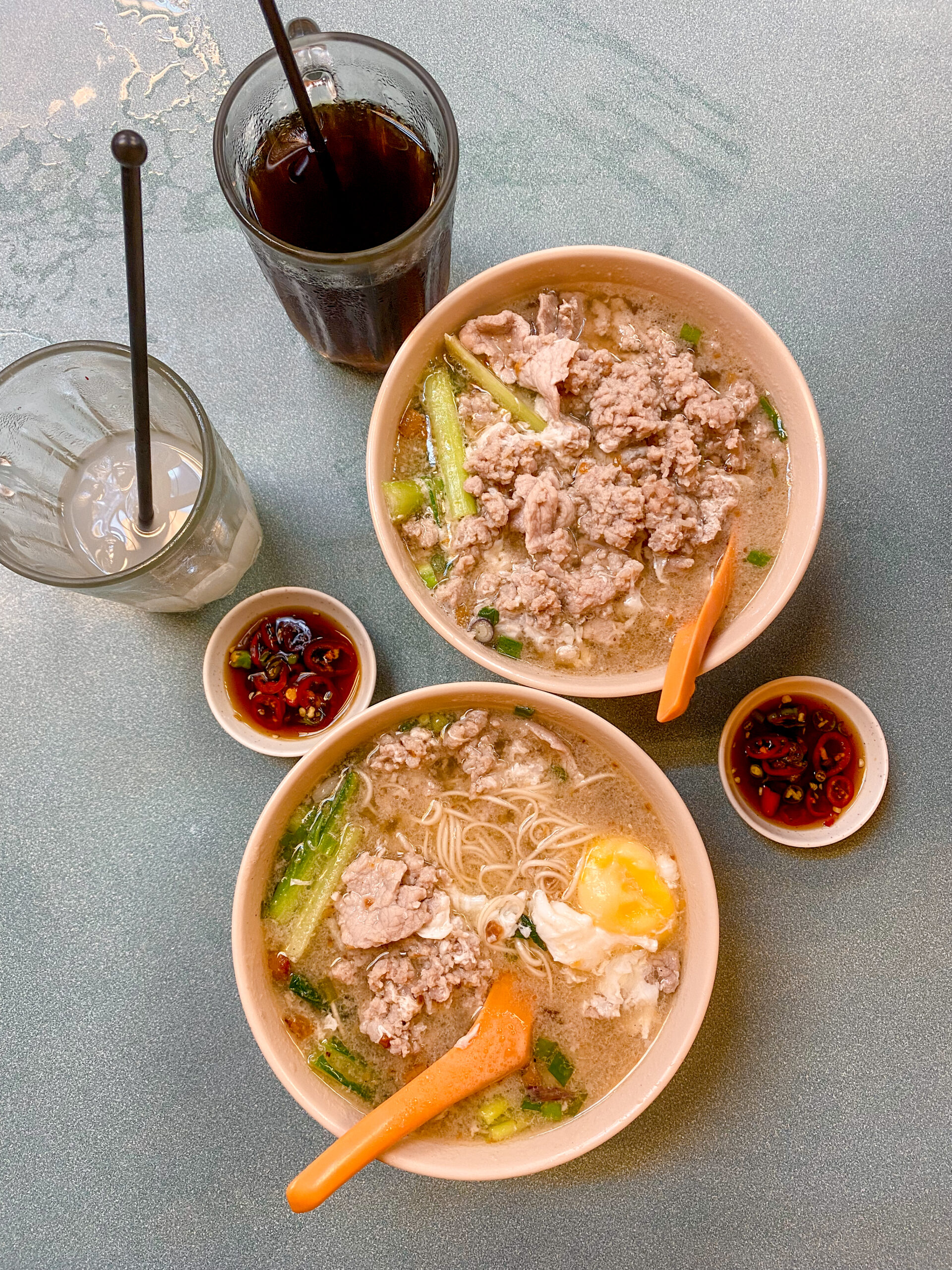 There have been debates that break friendships on where the best pork noodles are, and I think this one deserves to be a contender.
Ooi Noodle House has been a Subang favourite for many years, where their aromatic broth is made bowl by bowl. That's how you know you're getting a flavour-packed serving of noodles.
Each bowl is filled to the brim with pork meat, slurp-worthy noodles, and juicy intestines (grow up, it's delicious). Trust me, this isn't your average bowl of pork noodles.
Syakir's picks
Nasi Kandar Bestari (any branch)
Nasi Kandar Bestari, or simply referred to as 'Bestari' by regulars, is a chain of mamaks that I never say no to and neither should you. Its delectable and varied menu makes for a good daytime or late-night hangout spot for the pickiest of eaters to the malas-nak-fikir types.
Being a mamak, it's open 24/7, so you'd have ample time to pull-up and get your grub on. Want something sweet? Order a roti pisang. Want something savoury? Hit the nasi campur serving station. That being said, Bestari's best dish in my opinion is definitely their Indomie burger (pictured above).
It's basically Indomie cooked with pure love and mixed together with scrumptious, finely-cut chunks of burger Ramly (meat of your choice). Do yourself a favour and go try this at the nearest Bestari outlet if you haven't already.
Killer Gourmet Burger (KGB)
KGB models itself on American diner-style burger joints delivering mouth-watering juicy burgers with appetizers to die for like their Buffalo wings, eggrolls and my personal favourite – their Texas Jalapeño Steak & Cheese Fries.
But enough about sides, you're wondering about the burgers huh? Pictured below are two of my personal favourites, which I had a hard time boiling down to because all their burgers slap! (for real though, I think I've tried every single one).
The one on the left is called the 'Tornado'. Think Burger Ramly special (burger+egg) but on primo steroids. Every bite leaves you craving for more but if I'm feeling extra frisky, I'd order the burger pictured on the right called the 'Magmarr' which I will need another paragraph for to describe how obscenely delicious it is.
Before we get into that, let me just point out that all their burger patties are made of 100% Australian grass-fed beef, although you could opt for a chicken variation if beef burgers aren't your style. Vegan burgers are available too.
It's been said that you are what you eat. If the Magmarr's any indication, I guess I'm a hedonist because this burger is the definition of 'excess' stacked between two buns. That square-shaped thing resting atop the beef patty? Fried macaroni. Yeah I'm a glutton, but that's my cross to bear.
No matter which KGB branch you decide to dine at, the food will always remain consistent and it is quite the bang for your buck. Most importantly, THE FOOD LOOKS THE SAME AS IN THE PICTURES!
The same cannot be said for some fast-food burger joints which I will not name because I'm (still) luvin' it.
That's all from us, folks. Go get your grub on and tell them JUICE sent you!