Want To Avoid 'Tangkap Basah'? M'sian Reddit Users Share Tips For A Safe Staycation With Your Boo
Disclaimer: This article contains sexual content and is meant for mature readers. If you are easily offended by content of this nature, please click here. 
Malaysians know that with every major celebration, especially New Year's Eve and Valentine's Day, comes the inevitable barrage of headlines that read something along the lines of "Couple Arrested For Khalwat in OYO Hotel".
For those unaware, khalwat (or in more colloquial terms, tangkap basah) is when two unmarried individuals of the opposite sex are caught in close proximity. This usually implies that the couple were engaging in pre-marital sex or any other form of hanky-panky.
This arrest usually happens in budget hotels or even in parked vehicles.
To add a simple anecdote, when I was out on New Year's Eve, I saw police cars slowing down to shine their torchlights onto parked cars along the streets just to catch these amorous couples in action. That's how far they would go to make an arrest.
JUICE believes in practising safe sex in all forms and that extends beyond just using a condom.
We also believe that you should be cautious of where and how you engage in your romantic rendezvous, which is why we will be summarising some important tips and tricks provided by Malaysian Reddit users that will prevent you and your boo from spending your time separated in jail cells.
Disclaimer: We are not by any means promoting pre-marital sex, we just want everyone to be safe whenever they choose to engage in it. 
Without further ado, here is how you avoid getting tangkap basah…
Don't corncake in cars. Please!
Listen, I know the thrill of being caught is a kink for some of you – the fancy term is exhibitionism – but please, if you don't want to ring in the new year in jail, avoid doing the nasty in your car.
It doesn't matter how tinted your windows are or how secluded your spot is, there is a high possibility that you will get caught simply because there are dozens of other people with the same idea who think they're capable of evading the cops.
So, save that look-out point for another day unless you and your date don't mind roleplaying as Bonnie and Clyde and engaging in a high-speed chase to avoid the dreaded tangkap basah. 
Save some money and choose a 4-star (or more) hotel
Imagine a Datin clutching their pearls and Swarovski necklaces as they watch you and your boo being hauled into a Black Maria for having pre-marital relations. That scene just wouldn't happen.
Authorities tend to stray away from raiding hotels that could potentially house the elites, most likely because they might bump into their higher-ups at one of these hotel rooms. Mana tahu sergeant ada kekasih gelap?
But in all seriousness, these hotels tend to protect their clientele a lot more than the typical budget hotels, which makes it an infinitely safer option.
Sure, it'll cost more but hey, you had an entire year to save up for this one occasion – you're telling me you didn't put in the effort and thought for your boo? Hmm, maybe you don't deserve a great night after all…
Airbnbs are superheroes in civilian disguise
If you're an avid traveller, you're surely aware of the presence of Airbnbs. Convenient, cost efficient and often times cozy, these houses that are made available for your staycations are the best option for anyone who wants to have a good time on a budget.
There are plenty of choices on the app ranging from minimalistic chic, Gatsby extravagant, family-friendly and even – if you're up for a wild night – BDSM-adjacent.
All you need to be weary of is the location of the Airbnb (avoid a conservative neighbourhood) and the attitude of the host (best to avoid aunties and uncles that look like they would rat you out to your parents for saying the F word).
Other than that, you're good to go since you can opt for an hourly rate or just pay for a one-night stay.
Don't post about your staycation until you've left the premises
In a social-media driven society, it can be tempting to post a cute selfie or video of your staycation with your boo, but let me tell you something, nobody can be trusted nowadays!
Most raids happen because someone snitched and reported it to the authorities, so it doesn't matter how tightknit your Twitter circle or Finsta is, it's always best to keep your rendezvous a secret until you've left the area.
The FOMO that comes from not posting anything on social media about your NYE plans will pay off via a calm and relaxing night with your boo instead of you having to pay off a cop to avoid jail time.
Research the hotel you're staying at
If you absolutely must conduct your hanky-panky session at a budget hotel, the least you could do is research the hotel and the area.
The best way to do this is to Google the hotel name and type in keywords like khalwat and tangkap. If the hotel is associated with any previous arrests, then you'll know to stay very far away.
Other ways are to just ask friends and check your social media. Twitter has a search bar and most times, users will detail their experiences if they've ever been caught.
When it comes to the location, as mentioned before, avoid conservative neighbourhoods.
It's also wise to avoid hotels within close proximity to a police station, so at least when you're done, you'll have ample time to pack up and leave immediately.
The staff of these hotels matter too.
If the hotel is almost empty save for a sleepy receptionist who looks like they're in dire need of some action and drama that night, it's best to look for someplace else to corncake. And if you can help it, try to avoid staying at the hotel around 7-10pm because this is the peak time for raids.
Overall, choosing a budget hotel is the riskiest option but if you're truly desperate, these tips might help you lessen your chances of becoming tomorrow's headline.
Fake it 'til you make it
Our final tip and trick for you lovebirds out there is to just pretend like you belong.
Most people can sense your fear and anxiety if you walk in wide-eyed and fidgety. So, make sure you strut your stuff and book your room as if you don't have a care in the world.
Avoid being too touchy with your partner because it implies that you're young and excited for the night you have ahead of you. Act cool and if possible, pretend like you can't speak Bahasa Malaysia to indicate that you're a foreigner.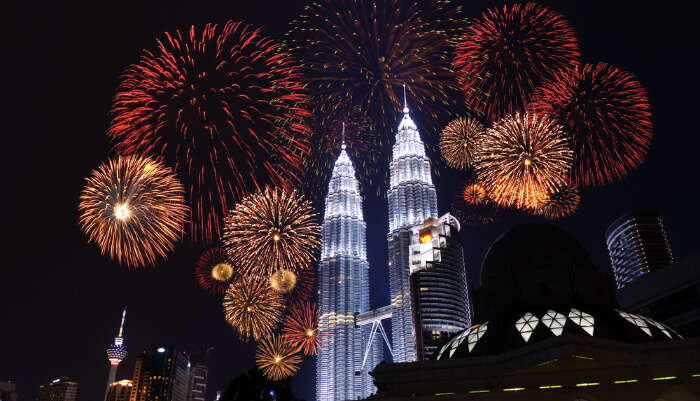 That's it, folks! It's 2023 and we have a whole year ahead of us. Let's avoid spending any of that time being interrogated by cops – that is unless you're Fahmi Reza.
Happy new year from us at JUICE!