How a regal distilled-alcohol producer and a bunch of environmentally-conscious misfits bottled some hope…
I hate plastic bottles because they symbolise my middle-class upbringing a little too much for my own liking. Growing up in an average Malaysian Chinese family, my mom has a habit of recycling old bottles – washing and refilling them for daily use, gardening, or keeping padlocks dry from rain. Due to this, my house was always filled with plastic bottles in addition to stacks of newspapers (my dad was in Public Relations before the internet).
One thing I could remember was that the bottles we used were mostly plastic. Glass bottles carried more weight and were somehow more prized when the old newspaper man came around, so we always sold them off. And you'd never buy mineral water in a glass bottle unless you were Robin Leach. Remember, this was the late '80s.
As time passed, more brands switched their bottles to plastic because they were easier to make, lighter to transport and cheaper to recycle. Glass bottles became a rarity, until now.
Today, we live in a part of the world that is rich in raw silica (the main component of glass). So much silica is found on Malaysian shores that the biggest manufacturers of solar panels have set up shop right here in our own country.
Being a glass-manufacturing nation obviously benefits the economy, but in a larger picture, severely reduces the value of glass locally. Gone are the days when the old newspaper man would cherish those glass bottles. Now, he won't even take them because they cost too much to recycle – it has to be crushed and melted at a high temperature – as opposed to plastic. Add the fact that only less than 30% of Malaysian-produced glass bottles are made from recyclable glass (compared to Thailand's 80% and Europe's 60-70%); and you've got truckloads of glass waste making its way to the landfills every day. From there, the glass does not decompose – it is just left there for the aliens to discover when they take over the world. According to Alam Flora's website, glass accounts for 4% out of the daily 30,000 tonnes of waste Malaysian households generate. Sure, plastic is a lot more than that but plastic gets recycled.
So we, as a nation, are producing all this non-recyclable glass that just ends up below us at the end of its life-cycle. I don't know about you, but this sounds like a potential natural disaster, or at the very least, a severe waste management problem.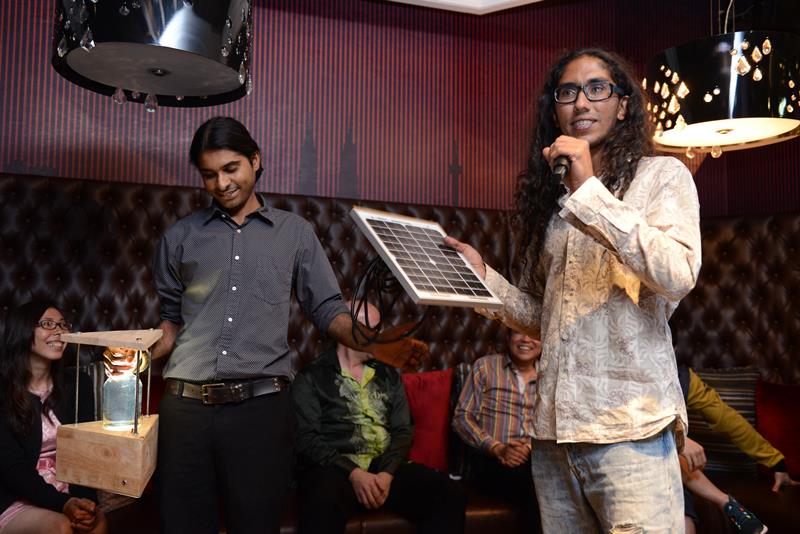 Enter Bottled Hope.
Biji-Biji Initiative, who are a bunch of well-mannered environmentalists, together with Pernod Ricard Malaysia (PRM) and NGO Yayasan Nanyang, have recently taken used bottles from PRM and transformed them into portable, chargeable lamps (aka Brightboxes) for those in need of lighting in homes without electricity both locally and abroad in Nepal. Targeting squatters and rural folk in Malaysia, a Brightbox is constructed on rubberwood frame and illuminated by an energy efficient LED light that can shine for 12 hours in between charges. It's free-patented so anyone can recreate it with the openly available design. Each Brightbox comes with a 10″ x 10″ solar panel for charging and is produced at a cost of RM350 per unit.
So why don't the parties involved in this charity outreach go right to the source, identify which villages need power and set up a main solar powered grid for them? Wouldn't that be a more viable option rather than to produce individual solar-powered lamps?
"It's a question of having a centralised system versus having a de-centralised system," explained Gurpreet, a founder of Biji-Biji Initiative. Humbly going by the title 'Builder' on his card, Gurpreet and his cohorts are quick to point out that Biji-Biji is firmly grounded in the realities of modern society and are not trying to resurrect some dying hippie tradition. Starting about two years ago, the members of the Biji-Biji collective got together to rethink urban and rural living and how they could improve both segments. Sort of like a group of Marxist engineers, they certainly gave an air of coolness to the green crusade.
Gurpreet continued, "In theory, yes, it is cheaper to build one huge solar panel for the whole village. But most of the time, when a centralised system is installed, it breaks down due to weather changes, wear-and-tear, overuse… Sometimes, when you install a powerful system like this, to be honest, the people who use it might not be able to fully appreciate it. They take it for granted and end up over-using their power supply. Then you'd have to go back to that remote village with a skilled technician to repair it."
We've heard reports of how some villagers in East Malaysia are building their own dams but Gurpreet is quick to burst that bubble. "It's great and amazing, but it's not powerful enough. Hydro-electric dams also pollute the environment and can lead to landslides. For us, solar is still the way to go for a clean, cheap, practical solution," reinforced Gurpreet. "The people using the Brightboxes can repair them quite easily and once we've sourced for cheaper materials, they can start building their own Brightboxes for others in their community. It's easy to take apart and to study. Giving these individual units also encourages the users to share them and take care of them."
Even though Brightboxes are meant for individual homes, PRM has long since been involved in illuminating rural areas, and has on occasion set up large-scale centralised generators when the situation called for it, as suggested earlier. Terence Ong, Managing Director of PRM, was adamant that the Brightboxes brought more to the table than just light. "In certain local villages as well as those in Nepal, the homes are sporadic – sometimes the homes without power are in between those with power," he said before clarifying that the project is an on-going, long-term plan which hopes to illuminate 1,000 homes in just the first phase alone. "In raising public awareness, the Brightboxes are a simple yet powerful concept that makes us rethink waste management. There are so many old things that can be reused by someone in need with just a few innovative tweaks."
Now you can do your part for Bottled Hope by attending Bottled Hope Day on 7 June at Padang Merbok, KL. There'll be entertainment for the whole family including food and drinks, environmentally-themed workshops, inspirational talks, as well as 7km and 3km runs. You can even adopt a Brightbox to help offset the costs for this project. For more info on this free-to-enter event, click here. Or checkout the Facebook page if you're interested in the Bottled Hope Run.
Or you can look for bottles (both plastic and glass) and upcycle them yourself. Like how I did here with this candle holder made from an old Chivas bottle at the Bottled Hope launch. Now wouldn't you buy this for 10 bucks at Art For Grabs or something?
More info at bottledhope.com.my.