Throw Out Your Mops & Brooms for The HIZERO Bionic Hard Floor Cleaner that Cleans Effortlessly
Working from home can cause some people to get into a slump especially if their homes are not conducive or clean.
The dust, oil stains and crumbs on the floor can act as a distraction and even make us feel unproductive. But cleaning is also such a chore and our lives are busy and tiring as it is.
So, as a way to combat that, HIZERO came out with the HIZERO F803 that will clean your floors in one swift motion. No need to cry over spilled milk and cereal, because this device can clean it both all at once.
The HIZERO F803 is a product of Visionary Solutions which is the sole distributor of highly effective and premium quality products. You may recognise some of the brands they carry such as the Dyson Airblade, Blueair Air Purifiers, KitchenAid and of course the HIZERO Bionic Floor Cleaner.
With that, here is why the HIZERO F803 is a cleaning tool that you definitely need in your arsenal…
Maximum cleanliness for minimal effort
Like we said before, we all know how tiring cleaning the house can be. Having to mop, sweep and vacuum can sometimes take up the whole day and by the end of it, our back hurts and all we want to do next is nap.
Well, with the HIZERO F803, all of that effort is unnecessary because it has a motorised forward motion. It can sweep, mop, dry and self-clean (All in One Pass).
When we mop, we tend to use a bucket of water that is only clean during our first dip. Once we dip again, that water becomes murky and contaminated by all the germs, crumbs and other dirt on our floors. 
With the HIZERO F803 All-In-One bionic floor cleaner,  you never have to worry about cross-contamination because it has 2 separate water tanks: clean water tank and dirty water tank. It will never recycle the dirty water for floor cleaning. And the best innovation that HIZERO has is…
It can also separate the dry waste from the wet waste. It does the self-separation itself by separating the dry waste into the trash tray and wet waste into the dirty water tank,  so you can dump them out effortlessly.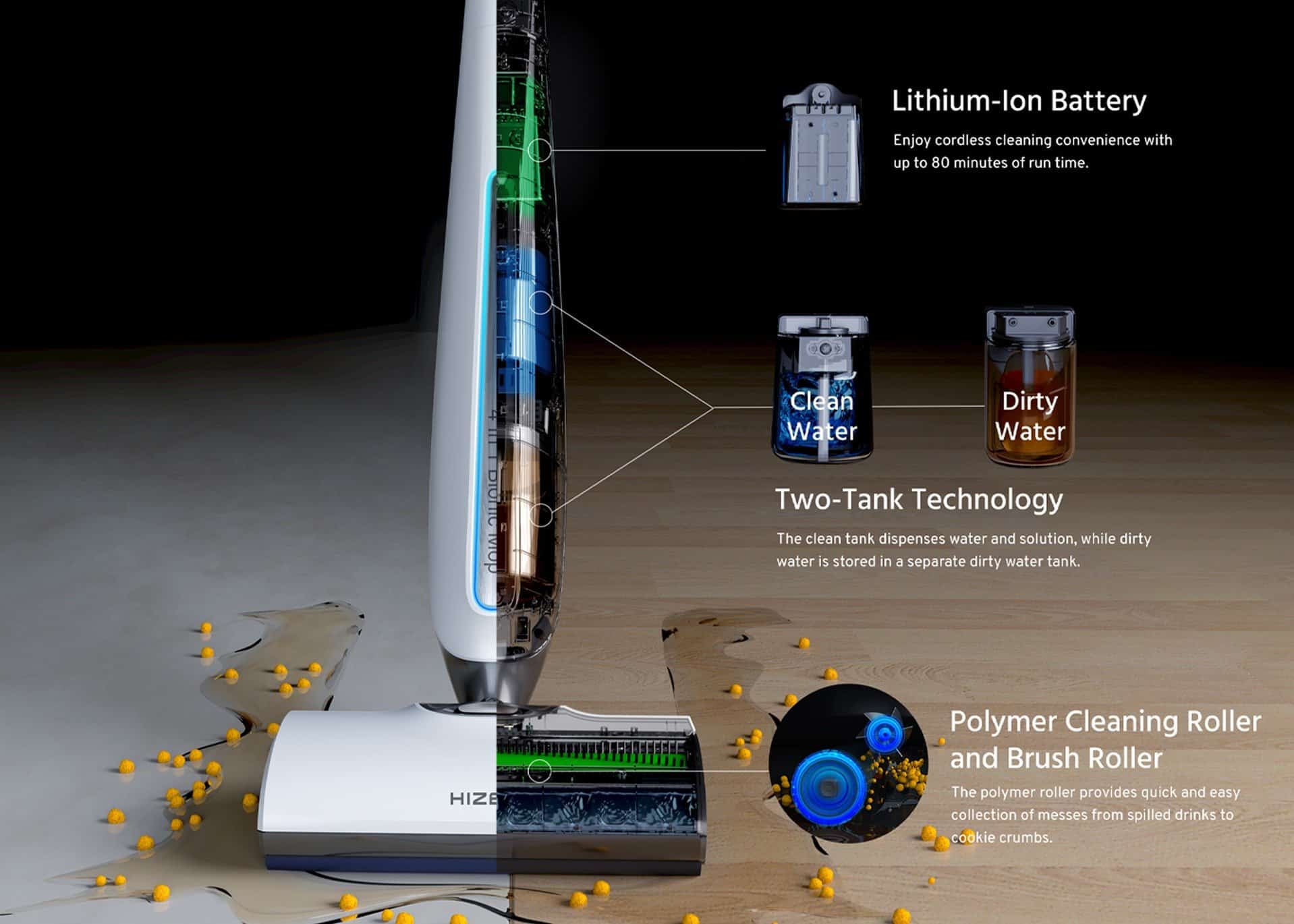 Traditionally we have to sweep before mopping the floor and changing 2-3 buckets of water to complete the mopping process. With HIZERO F803, you can save time as it completes both sweeping and mopping all in one pass, no matter if it's a dry waste, wet waste or both. And it's not only saving time, it saves water as well. With just 500ml of clean water able to clean 538 square feet.
HIZERO comes with motorised forward motion, lightweight and it comes with smooth rolling wheels. You can move the device easily, as it is flexible. No more carrying heavy buckets of water for mopping.
As with sweeping and vacuuming, you can use the same device. No more having to switch from your mop to your broom whenever you need to clean. Plus, the device is lightweight so it won't strain your arms or your back.
The HIZERO F803 is also ergonomic so it can clean hard to reach places without having to contort your body like a pretzel. Speaking of pretzel, if you drop any crumbs under the bed or in any tight crevices on your floor, this device can pick it up for you with no effort or suction needed.
As if that isn't pleasant enough, the HIZERO F803 doesn't release any pungent odours while you use it unlike the typical vacuum that expels dusty air, making it 100% dust free.
Also, unlike mops, you don't need to wait an eternity for your floors to dry. The HIZERO F803 uses minimal water so it's dry and safe to walk on almost immediately after you clean it, which is great at keeping your hardwood floors in tip-top shape.
It's perfect for families with children and pets
If you don't live alone and can't clean the house at night when you're done with work because you're afraid to wake up the kids or your sleeping cat, don't worry, the HIZERO F803 is very quiet, emitting only 60db.
We all know the pesky noise the vacuum makes which can even be heard from upstairs (and it is disturbing your neighbours as well), so the device's minimal noise feature is definitely a plus. Even for the person using it, you don't need to plug in your earphones and blast your music on full-volume to clean in peace.
Apart from that, the HIZERO F803 just requires clean water for floor cleaning. Additionally, they recommend adding only 10ml (or one cap) of Hygiene Hero detergent to achieve 99.9% effectiveness in cleaning and protect your family from germs.
It is safe to use on floors, as it is a very gentle hard floor cleaning solution with a fresh orange scent. And if you have young kids or pets around, then using HIZERO Hero detergent will be your best choice, as it is kids friendly and pets friendly making it hassle free from contacting harmful chemicals.
HIZERO F803 cleans itself and requires low maintenance
The most impressive feature of this device is definitely its self-cleaning feature. While you clean, the polymer roller is constantly damp with clean water which means you don't need to take it out and clean it yourself.
The battery runs for 1 whole hour and it's cordless which means you can roam around freely and clean every nook and cranny of your house without tripping over wires.
Vacuums usually require you to change or clean the filters after usage but the HIZERO F803 only requires you to dump out the dirty water and the trash tray and you're good to go.
Hizero F803 is the upgraded version of Hizero F801. The Hizero F803 comes with the compartment to keep the Hizero accessories such as cleaning tools, roller and detergent.
Check out the demo below:
Visionary Solutions is the sole distributor for highly effective, premium quality products.  They are committed to distinctive quality and unparalleled customer service in all aspects of their business.
If you're looking to upkeep your work-from-home environment and keep your family happy, you can purchase the HIZERO F803 on Visionary Solutions' website, Hizero Official store at Lazada and Shopee. Or purchase from our partner retailer stores: Harvey Norman, ESH, TBM, One Living, Best Denki, SenHeng, DS Home and many more with 2 years warranty.
Follow Hizero on Facebook and Instagram.