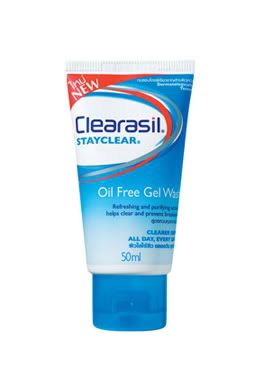 Let's be honest here. Apart from having significantly less responsibilities compared to an adult, being a teenager is no easy feat. Apart from worrying about school, homework, friends, and other mindless adolescent dilemmas (everything's a dilemma to teens), they also have to worry about keeping our faces strictly zit-free. After all who'd willingly walk around with an oil slick of a face? So give them a break once in a while and let them whine freely. Once in a while.
Clearasil's new Stayclear range comes to the rescue, clinically proven to clear and remove pimple-causing bacteria, resulting in visibly clearer skin. The range consists of a Skin Perfecting Wash and Oil Free Wash, enabling deep cleansing without risking over-drying. The former gently exfoliates while the latter purifies and refreshes the skin, keeping it youthful. The Deep Cleansing Toner not only tones but removes excess oil and bacteria as well. Used together with the Mattifying Moisturising Lotion, the skin stays moisturized while mattifying trouble oily zones prone to pimples.
Hardly harsh on the skin, Clearasil's Stayclear range is recommended by teens and dermatologists alike. The range has been specially designed for daily use to keep those annoying pimples at bay.